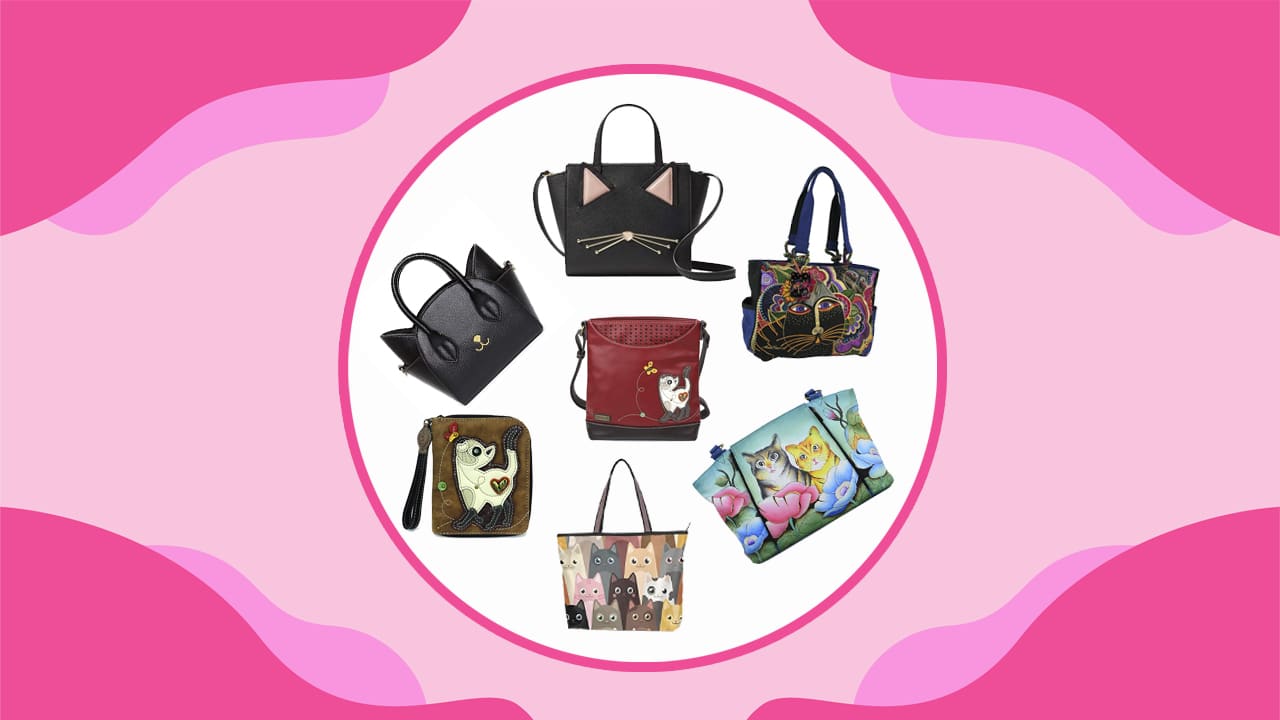 What do you think about a new handbag? If you love cats and looking for an exclusive design and quality cat handbag, you have come to the right place. On this web page, you will find the most popular cat style handbags. Just look at these creative design purses and make your own choice.
This black cat handbag is made of high-quality PU leather, and it has a great capacity and three type cat design. Plus, it comes with two sides pockets, one zipped pocket on one side, and one open slot on the other side for keys/phone/cards. Also, the bag is functional and pretty sturdy, the perfect replacement for an everyday purse!
This handbag features a creative cat artwork (a big cat face), and of course, it is made of quality fabric, not too big, not heavy. Also, it has a strong zipper and handles. This bag is most popular among the Cat Lovers.
Chala Leather Bag – Compact and Perfect for Daily Use
This sweet cat handbag is made of faux leather, well crafted, and it is vegan, features a cute white cat. Plus, you can find different animals. Don't hesitate to buy it. This is a good purse, believe me, you won't be sorry!
This premium handbag has an amazing design, features two adorable cats. This model is made of organic 100% Cowhide full-grain leather. Also, the handpainted tote has a functional design: a multi-purpose pocket, 1 zippered wall pocket, and large main compartment provide plenty of storage space. The absolute best purse in leather for you!
This Cat Ladies Handbag has a super cute design. You can use it for all occasions: Working, shopping, daily life traveling, school and business, etc. Moreover, it is made from 100% Polyester (Not easy to fade, Soft, Durable) and comes with a practical internal structure.
This compact cat wallet is made of PU Leather also, known as faux or vegan leather. It's so cute and the perfect accessory for cat lovers. Plus, it has credit card multicolored slots, one clear picture ID holder, and two separate compartments for cash.
This practical Chala bag is made of faux leather it has a huge front and rear slide pockets with magnetic snaps. The design is adorable, like all Chala purses. Moreover, you can use it for work or traveling.
It is a multifunction handbag with different zippered pockets. This model features lovely cats and has a casual style. This bag is perfect for shopping and walking, plus you can choose the color you like the best.
If you are a Disney fan, then this handbag is for you. It has internal and external zipped pockets. The perfect bag for women with a beautiful cat design.
It is a mini cat bag with an adjustable shoulder strap and a 14-Karat light gold plated hardware. This bag has a cute cat face design with rose cat ears. The type of bag material is crosshatched leather.
Felix the Cat handbag – Faux leather with Applique and Embroidered Details!
Look at here, this funny purse for you because you are a big fan of Felix the Cat. This faux leather tote with dual carry handles and a large cat applique on front. Moreover, you can choose the color black or white.